Meet Normal Heights Sober Living
San Diego Sober Living Manager - Shane
My name is Shane Liston and I manage Normal Heights Sober Living located in San Diego. I am a recovering addict and I have over 8 years of recovery. I also have been managing sober livings for over 8 years now. I started using drugs when I was 13 years old and I didn't get clean until I was 40. I was a high school drop out with no skills except using dope. My drivers license was suspended in 1986. Around 1992 I moved from Arizona to California. I have been in and out of jail my whole life. In 1995 I decided to cut my mother and my sister out of my life as my drug use was getting way out of hand and I didn't want to put them through my living hell anymore. I lost my father in 1987 to a heart attack. In 2008 my addiction had such a hold on me that I didn't care if I lived or died. Feb 17, 2008 I over dosed on GHB and Meth. They rushed me to mercy hospital where I was in a coma for 2 days. On Feb 19, 2008 I came out of my coma and that's when I started my clean date. I spent 1 month in the hospital getting better. Since I have been clean and sober I have gotten a valid Drivers License , I went back to school and got my high school diploma, I am a certified recovery coach, I am certified in Management – Leadership , Developing , Operating Sober Livings in the San Diego Sober Living Coalition. I am also on the Board of the SDSLC. Currently I am going to UCSD and I am taking the CAADAC program to get certified as a drug counselor. The most important thing about being sober is that I have my family back in my life. My role as acting house manager of Normal Heights sober living is to ensure the safety of all residents and plant a seed of recovery that lasts a lifetime. I enjoy seeing new residents come out of the fog of addiction and begin to rebuilt their lives clean and sober. My favorite part as manager is to witness the families of residents have their relationships with the once hopeless family member affected by drug addiction.
The Sober Living and Recovery Dog - Apollo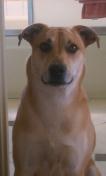 My name is Apollo the Normal Heights family recovery dog. I have been by the side of my owner Shane Liston since day one of his recovery journey over 8 years ago. I enjoy all the attention the residents of Normal Heights Sober Living have given me over the years. You can find me relaxing on our outdoor patio when the weather in San Diego is nice, or even occasionally attending a meeting of recovery! I am a huge fan of 12 recovery and have been at Normal Heights San Diego sober living since it was founded. I can sense when a resident at Normal Heights San Diego sober living is going through a tough time and I am always there for support.